The first workshop of RUSTICA project in Spain took place in Almería
Tecnova counts on the presence of 10 stakeholders of the Rustica project to obtain bio-based fertilisers from organic fruit and vegetable waste.
The aim of the Rustica project, financed by the European Union's Horizon 2020 Research and Innovation programme, is to find a solution related to the conversion of organic waste from the fruit and vegetable sector into innovative, high-quality biological fertilisers focused on the needs of modern (organic) agriculture.
The goal of this research line not only goes beyond a nutrient recovery, but also involves the development of economically viable and environmentally sustainable alternatives to mineral fertilisers with the same or improved agronomic value.
On 10th November of 2021, the Technology Centre Tecnova organised the first Spanish workshop which took place in Almería and assembled ten stakeholders from Spain and different fields of work: research centres, fertilizer industries, waste processing enterprises, agricultural producers' organisations, technical services centres and public administration agents.
The workshop was structured in different parts. At the beginning of the workshop, there was a presentation and a reception of the participants followed by an introduction of the RUSTICA project. Then, each stakeholder presented the main short- and long-term contributions in order to get to know each participant and their organisation.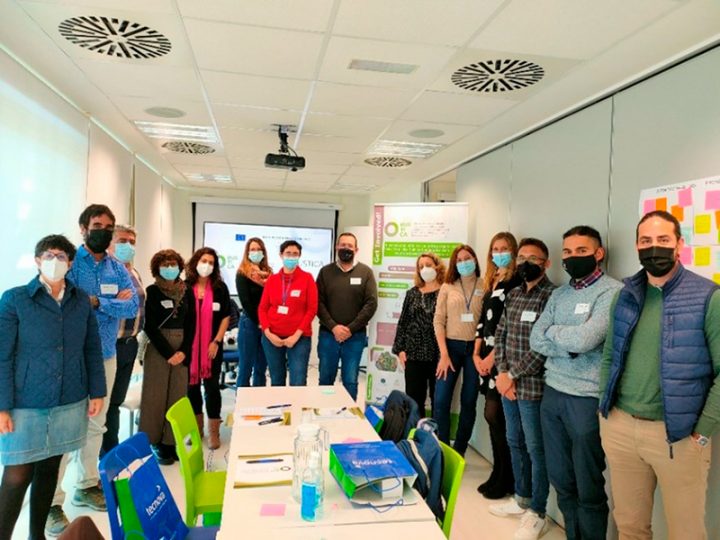 Subsequently, several questionnaires were carried out in order to validate the fact sheet created for the market study of Almeria region. Some of the questions asked were: does the data presented correspond to the reality of the sector and which aspects of the risks do you identify with? Later, main promoters and risks were identified for the implementation of new biofertilizers developed from residues in the agricultural sector of the vegetable industry under greenhouse.
Based on another questionnaire each participant gave their opinion on what they expect from the ideal bio-based fertilizer. At this stage of the workshop, future scenarios were presented where each of the different stakeholders identified the aspect of the targeted factors (social, economic, political, technological and environmental) that could positively or negatively affect the implementation of the production and use of bio-based fertilizers.
To conclude this workshop, a debate took place on the ideal future scenario in Almeria for the production of bio-based fertilizers from organic waste.
This first workshop of the Rustica project was very enriching for all participants and for the project in general. It was possible to learn first-hand about the current fertiliser problems and the opinions related to possible solutions, thanks to the direct contact of the stakeholders with the agricultural industry.
In short, the aim of this workshop has been to show and to collect information and, at the same time, to receive feedback from experts to develop high quality bio-based fertilizers that can be accepted by the whole industry and farmers.