Cocoreado
Cocoreado receives funding from the European Union's Horizon 2020 Framework Programme for Research and Innovation under Grant Agreement no.101000573
COCOREADO, which is inspired by the Esperanto for co-creation, is a project designed to rebalance the position of the farmer as an individual actor, as a key player in innovative food supply chains, and as a supplier for public procurement. Based on the multi-actor approach and a deep understanding of Agricultural Knowledge and Innovation Systems (AKIS), the project applies a three-fold approach to maximise impact, relying on ambassadorship, good practices, and a focus on youth. The project involves both academic and close-to-farmers partners across Europe, recognising regional differences and barriers in terms of replicability of good practices and regional opportunities in terms of solutions.
The project will encourage young people in rural areas to co-create innovative solutions that overcome obstacles for farmers, address consumer needs and improve the conditions for the sustainable public procurement of local and seasonal food.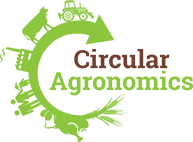 Circular Agronomics
Circular Agronomics receives funding from the European Union's Horizon 2020 Framework Programme for Research and Innovation under Grant Agreement no. 773649
The broader objective of Circular Agronomics is to facilitate a development towards smart, sustainable, resilient and inclusive economies that are part of circular and zero-waste societies.
This wide objective will be achieved by focusing on 4 specific objectives:
Increase the understanding of C, N, P flows and the related potential to reduce environmental impacts at farm and regional level under different bio-geographical conditions
Closing loops within cropland farming, from livestock to cropland farming and to increase the reuse of waste/wastewater from food-industry to improve soil fertility and to increase nutrient use efficiency
Highlight the performance of different prototypes of agro-ecological systems and increase sustainability of food production in the EU
To contribute to the improvement of the European Agricultural Policies by providing evidence based, farmer led and consumer relevant recommendations for the agri-food chain
Nutri2Cycle
This project has received funding from the European Union's Horizon 2020 research and innovation programme under grant agreement No 773682
From farmers to end-users: targeting the whole value chain
Nutri2Cycle will interact with all actors influencing nutrient cycles to:
Create more efficient and sustainable farm business models for nutrient recovery and recycling.
Spread the results at regional, national and European level throughout a comprehensive network of regional operational groups, National Task Forces and European stakeholders.
Assess how the products obtained through the identified business models can aim for labelling and reach end-users.
Provide scientific support on effective regulatory frameworks to reduce emissions and increase self-reliance of Europe for food, energy and nutrients in the next century.
Sealand
This project has received funding from the European Union's Horizon 2020 Research and Innovation Programme under Gran Agreement NO 101000402.
The general objetive of the project is to provide solutions to help overcome future challenges related to food production, climate change and waste reuse. The SEA2LAND project aims to meet this challenge by improving and adapting technologies for nutrient recovery to produce bio-based fertilisers (BBFs) and Tailor Made fertilisers (TMFs) from fishery and aquaculture by-products generated in Europe.
The specific objetives are:
Update and record the intra and interregional nutrient imbalance in Europe.
Promote and scale technologies for recovering nutrients from by-products that will enable Europe to substitute synthesis fertilisers by bio based fertilisers.
Diminish GHG emissions coming from fertilisers production.
Obtain bio-based fertilisers that will provide nutrients and other compounds that ensure crop production increasing soil fertility and diminishing GHG emissions
BFerst
This project has received funding from the Bio Based Industries Joint Undertaking (JU) under Grant Agreement N° 837583
FERST's main objective is to integrate the valorisation of bio-waste in agriculture management plans by creating new circular and bio-based chains starting from bio-waste. Thanks to a direct interaction between farmers and the fertiliser sector we aim at changing the fertilisers' paradigm by developing 8 innovative fertilisers: specialised nutrients will be provided by tailor-made dosing adapted to farmers' needs to improve both the efficiency and the sustainability.
B-FERST:
valorises underexploited bio-wastes for sustainable agricultural management
develops 8 new green fertiliser consumer products to be sold at competitive prices based on nutrient recovery;
reduces raw materials' dependence by replacing 15- 40% with bio-waste;
improves fertilisers' sustainability and their management in agriculture;
cuts water and energy consumption as well as the carbon footprint by 10%;
defines guidelines for certification and quality standards at EU level;
improves farmers' economy thanks to the development of tailor-made nutrients.
Fertimanure
The project has received funding from the European Union's Horizon2020 research & innovation programme under grant agreement No 862849.
The mission of the FERTIMANURE project is to provide innovative solutions (technology, end-products, and business models) that solve real issues, ie the manure challenge, and help farmers with the challenges that they are currently facing. FERTIMANURE will develop, integrate, test and validate innovative nutrient management strategies so as to efficiently recover and reuse nutrients and other products with agronomic value from manure, to ultimately obtain reliable and safe fertilisers that can compete in the EU fertiliser market.
The FERTIMANURE project will cover both technological and nutrient management approaches :
The technological side will be addressed with the implementation of 5 innovative & integrated on-farm experimental pilots for nutrient recovery in the most relevant European countries in terms of livestock production (Spain, France, Germany, Belgium, The Netherlands), whereas nutrient management will be addressed through 3 different strategies adapted to mixed and specialised farming systems:
Strategy #1 with on-farm production and use of bio-based fertilisers (BBF)(1) ,
Strategy #2 with on-farm BBF production and centralised tailor-made fertilisers (TMF)(2) production, and
Strategy #3 with on-farm TMF production and use.
Lex4Bio
This project has received funding from the European Union's Horizon 2020 research and innovation programme under grant agreement No. 818309
LEX4BIO aims to achieve this goal by collecting and processing regional nutrient stock, flow, surplus and deficiency data, and reviewing and assessing the required technological solutions. Socioeconomic benefits and limitations to increase substitution of mineral fertiliser for BBFs will be analysed.
A key result of LEX4BIO will be a universal, science-based toolkit for optimising the use of BBFs in agriculture and to assess their environmental impact in terms of non-renewable energy use, greenhouse gas emissions and LCA impact.
NOMAD
This project has received funding from the European Union's Horizon 2020 research and innovation programme under grant agreement N°863000.
The project gathers partners from Greece, the UK, Italy, Romania, Malta, the Netherlands and China to develop an innovative small-scale tech solution designed to recover nutrients from digestate for formulation into high performance bio-fertiliser products.
The project´s objective is to reduce the total volume of digestate by 85-90%. This will be achieved by separating it into three streams:
70

%

Grey water, which is recycled for further use
20

%

Sludge composted for soil improvers
10

%

Concentrated nutrients
In line with the EU bio-economic strategy, NOMAD's innovative mobile approach fosters a vibrant organic circular economy model that has the potential to be widely replicated across rural, peri-urban and urban areas.
Valuewaste
This project has received funding from the European Union's Horizon 2020 research and innovation programme under Grant Agreement No. 818312.
VALUEWASTE general objective is to develop a system for urban biowaste valorisation through the development of three value chains that can be integrated following a cascading approach. Two different routes for protein production (as well as other valuable compounds susceptible to be used as feed and food ingredients) and one combining system for nutrients recovery (P and N) will be demonstrated at TRL7 within the project.
Walnut
This project has received funding from the European Union's Horizon 2020 research and innovation programme under grant agreement No 101000752.
WalNUT aims to close the waste water cycles for nutrient recovery. Waste water streams are considered a promising resource to mitigate the soil nutrient imbalance and to recover nutrients for plant fertilising purposes. Nutrients from this large-scale recovery process can be used for bio-based fertilisers offering a new, circular and sustainable model to tackle the limited nutrient-mineral reserves and its crucial environmental issues. These bio-based fertilisers will ensure food safety, minimise waste water carbon footprint and protect nutrients natural reserves.
Objectives
Analyse inter and intra-regional EU nutrient imbalances
Develop sustainable and resource-efficient technological solutions for nutrient recovery
Environmental and socio-economic impact assessment of the proposed solutions
Assess the agronomic efficiency of safe bio-based fertilisers
Food processing in a box
This project has received funding from the European Union's Horizon 2020 research and innovation programme under grant agreement No 817683
FOX focusses on mild processing technologies, such as low temperature drying and mild preservation techniques, to achieve the optimal physical and nutritional quality of the fruit and vegetable products. Minimising the use of resources and packaging material are key.
FER-PLAY
FER-PLAY is working to protect ecosystems, decrease EU dependence on fertiliser imports, and improve resource efficiency through the promotion of alternative fertilisers. The project will map and assess alternative fertilisers made from secondary raw materials and highlight their multiple benefits to foster their wide-scale production and application.