We invite you to the next Rustica webinar on June 20th from 2 to 5 PM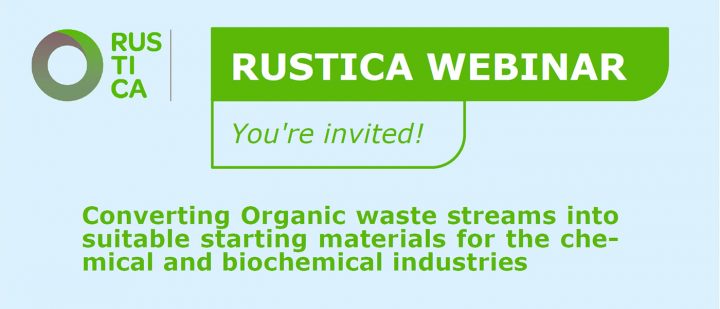 The webinar will focus on technical aspects and details of the 5 different technologies used in RUSTICA project to transform biowaste into an innovative bio-based fertiliser with high value added.
The RUSTICA project  (H2020) provides a technical solution to convert organic residues from the fruit and vegetable sector into novel bio-based fertiliser products of high quality that address the needs of modern (organic) agriculture. The project's ambition goes beyond the simple recovery of nutrients, and also includes the developments of economically viable and environmentally sustainable alternatives to mineral fertilisers with the same or improved agronomic value. The technical solution consists of 5 conversion processes (carboxylic acid platform, microbial biomass production, electrodialysis, insect breeding and biochar production) which can be combined depending on the available waste streams, and integrated with state-of-the-art technologies such as composting. The resulting ingredients (microbial biomass, mineral nutrient concentrates, insect biomass, insect frass, insect chitin, biochar) will be combined to obtain tailor made fertiliser products adapted to specific crop needs.
The language of of the webinar will be English.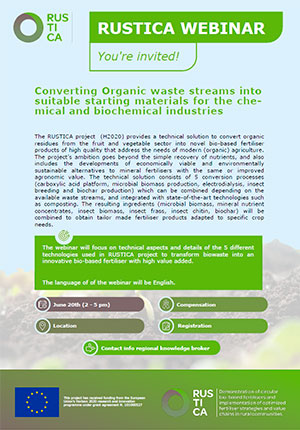 More information in the brochure: Converting organic waste streams